Company Snapshot: 84 Lumber Company
Address:
1019 Route 519
Eighty Four, PA 15330
Phone:
724 228-8820
Fax:
877 213-4381
Internet Homepage:
http://www.84lumber.com
Year Founded:
1956
Total stores:
255
Total Sales:
$1,620,000,000
Senior Executives:
Joseph A. Hardy- Founder, Chief Executive Officer
Maggie Hardy Magerko- Owner, President
84 Lumber was founded in 1956 by five friends, including the three Hardy Brothers, after they managed to raise $84,000 to cover the cost of the land and buildings needed to establish their single unit business.  Ultimately the business became property of the Hardy brothers, with Joe Hardy, who proved to be a true visionary, essentially running operations.  The company was named for the rural community in which it was founded, twenty miles south of Pittsburgh.
From the start the company philosophy was to establish a no frills business, based on a cash and carry system.  This allowed the neophyte 84 to emphasize low prices to customers, both professional builders and knowledgeable amateurs.  While the cash and carry concept has been augmented by modern electronic-based methods of trade, the initial concept of relying on simple basics continues to inspire the business.   When 84 Lumber decides to enter an area, the emphasis is on low cost but accessible real estate.  The size of the acquired building is pretty much irrelevant as long as the price is right and the location is near a railroad, for the efficient transportation of product.
According to Chain Store Guide's database of Home Center Operators and Hardware Chains, 84 Lumber's empire reached its peak in growth in 2006 when it opened its 475th location.  It was shortly after that that the effects of the subprime crisis began to hit the industry and like many of its competitors, 84 reluctantly began to close locations.  A year later the company was down to 425 locations and retreating.
In attempting to maintain its connections to its loyal clientele, the company would map locations in nearby communities for those affected by carefully planned closures.  In several cases the company promised to return to a community when conditions permitted.  In a few instances 84 has been able to keep its promise after several years had passed.  Last October, the company issued a statement that threatening economic conditions had finally bottomed out and the company was again embarking on a path of growth.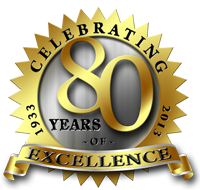 This year, Chain Store Guide celebrates its 80th anniversary. In honor of this occasion, we are hosting a monthly series of editorials called "Chain Store Guide Through The Ages", starting with the 1930s. We will take a look at what was happening in that time and how it affected the industries we now serve. Our Company Snapshots will examine companies from that period and see where they are today.