Company Snapshot: The Home Depot Inc.
Address:
2455 Paces Ferry Road NW
Atlanta, Georgia 30339
Telephone:
(770) 433-8211
Year Founded:
1978
Total Stores:
2,258
Total Annual Sales:
$74,754,000,000
Senior Executive:
Francis S Blake- Chairman, CEO
Home Depot was founded in 1978 by four men who envisioned the then next step in do it yourself retailing.  The hardware store had been the industry staple for decades.  The nation's incredible economic expansion after World War II and the baby boom had produced a great need for new housing alongside a prosperity which set the conditions for massive remodeling for those who preferred to remain in their traditional family homes.
The home center had supplemented the traditional hardware store to meet the needs of a burgeoning society.  By the late seventies, the nation's size and economy had led the way to the next step which the four founders of Home Depot took beyond the logic of mere size.
They envisioned a chain of newly sized big box warehouses.  They saw the importance of size in individual locations as well as across the entire spectrum of the chain, as better able to serve the growing public and its increasing demands for product and customer service.
They also saw the scale of size as it would affect suppliers.  Now Home Depot could set prices and distribution efficiencies as demands on manufacturers, who found they could not afford not to have their products in Home Depot.  As Home Depot was then able to use these efficiencies to offer customers prices so low, many consumers and even builders were unable to ignore the attractions of this home center warehouse.
Ultimately Lowe's and Menard succeeded in taking on the warehouse format while few others did.  In fact several were unable to make a go of it such as Builders Square, HomeBase, Hechinger, Home Quarters Warehouse and Handy Andy.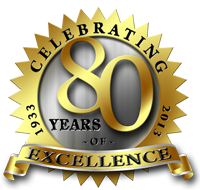 This year, Chain Store Guide celebrates its 80th anniversary. In honor of this occasion, we are hosting a monthly series of editorials called "Chain Store Guide Through The Ages", starting with the 1930s. We will take a look at what was happening in that time and how it affected the industries we now serve. Our Company Snapshots will examine companies from that period and see where they are today.