The 800-Pound Gorilla Wants to Gain Weight
The 800-pound gorilla wants to become the 1,200-pound gorilla. In a proposed deal announced December 9, 2013, Sysco Corp. plans to acquire US Foods Inc. in a $3.5 billion deal. Sysco CEO Bill DeLaney noted that his company controls 18% of the foodservice market, while US Foods has 9%. Combined revenues for the two behemoths exceeded $66 billion in their most recent fiscal years.
Chain Store Guide's database of Foodservice Distributors shows that the sales of Sysco and US Foods exceeds the combined total of their 25 next largest competitors: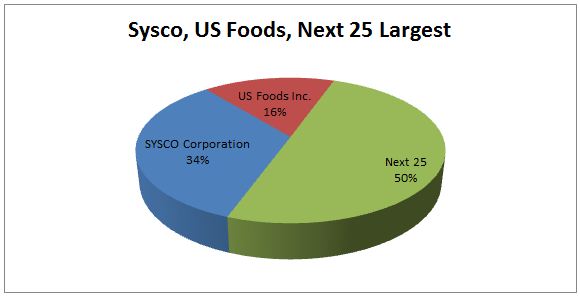 Source: Chain Store Guide Database of Foodservice Distributors
Even among the top 100 U.S. distributors, these two giants dominate the industry: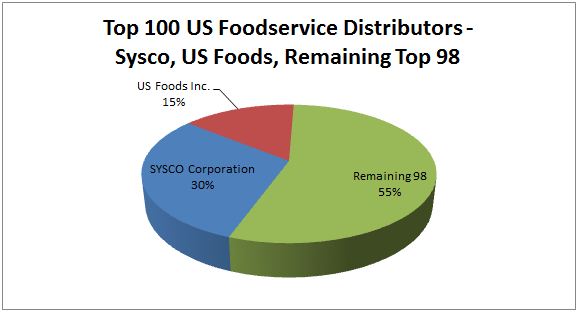 Source: Chain Store Guide Database of Foodservice Distributors
Sysco was founded in 1969 and went public shortly thereafter. In the past 40+ years, it has grown from $115 million to $44.4 billion in annual revenue. Growth has been both organic and through aggressive acquisition – in the past year alone, 14 competitors were acquired throughout the U.S. and Canada, plus the Republic of Ireland, Northern Ireland, and the Bahamas. It currently serves 425,000 customers through its distribution network of 193 facilities.
In contrast, US Foods most recent fiscal year recorded total revenue of $21.7 billion, more than $9 billion higher than its nearest rival but still less than half of Sysco's take for the year. US Foods operates 80 distribution centers and serves 200,000 customers. In 2012, the company acquired five competitors. US Foods is privately owned but filed an S-1 registration document with the SEC this past summer in preparation for going public. It now seems highly unlikely that an IPO will occur until the proposed transaction is resolved.
Wall Street's initial reaction to the news was positive, but some have begun to express concern about obstacles to regulatory approval:
In its announcement of the proposed merger, Sysco's DeLaney cited 15,000-16,000 other distributors in the foodservice distribution marketplace. While this may be technically true, very few of them have more than a regional presence and most are small, privately-owned companies serving the needs of local restaurateurs. The most recent data from the U.S. Economic Census for wholesale food distributors showed that just 14% of them had sales in excess of $25 million. Will the Federal Trade Commission allow these two giants to further dominate this market space?

The FTC is also likely going to be looking at the fact that these two companies currently service 650,000 customers. The National Restaurant Association estimates a total of 900,000 locations industrywide. If these numbers are correct, there doesn't appear to be much room for growth, and given the economies of scale the combined organization will achieve, the smaller guys would be even more vulnerable to competitive pressure. With fewer competitors to balance pricing, the merger could ultimately result in higher prices to the end users, restaurant patrons.

As might be expected, there is a lot of overlap among the markets and areas served by the companies' distribution networks, so integrating the operations and eliminating the duplicative processes and properties would be a massive and potentially expensive undertaking. The merger could lead to significant downsizing of the combined labor force as the assimilation proceeds.
My friend who owns a single-unit Chinese restaurant in a small town in rural West Virginia has commented before how difficult it is to work with Sysco because of its minimum-size order requirement. He sometimes has to order more than he needs if he purchases from Sysco and needs the product delivered, or he has to travel to another town to buy and transport products himself from a warehouse store or local specialty distributor. Will his needs be better served by a combined Sysco-US Foods mega-distributor? I'm personally skeptical.
Contact your Chain Store Guide sales representative to schedule a demonstration of our exclusive online database of Foodservice Distributors. Visit www.chainstoreguide.com or call 800-778-9794.