Will California Run on Dunkin'?
Dunkin' Donuts recently announced that it is opening Northern California for sale, resulting in the entire state now being available for franchise development. Its statement follows several announcements in the past year for multi-store development agreements for other parts of the state, including 26 stores in North Orange County and North/Central Inland Empire and 45 locations in Orange and Los Angeles Counties. Dunkin' Donuts believes it can eventually have 1,000 Dunkin' locations in California, part of its long-term goal of having more than 15,000 restaurants in the U.S. The first of the new California locations is expected to open in 2015.
For those of us who live in the Eastern and Southern U.S., it's almost inconceivable to realize that of the more than 10,800 Dunkin' Donuts locations worldwide, there are currently only two in the entire state of California. One of these restaurants is located at Camp Pendleton as part of the base's food court, and the second opened just three months ago in Barstow.
Based in Canton, MA, Dunkin' Donuts is part of the Dunkin' Brands Group, parent also of Baskin-Robbins. Despite being relatively smaller at 7,300 locations, Baskin-Robbins has more than 500 stores in California.
An analysis of Chain Store Guide's Chain Restaurant Locations Database reveals that of the more than 200,000 restaurant locations we capture, more than 15,000 (7.6%) have Snacks as their primary menu type (Snacks includes doughnuts, ice cream, frozen yogurt, pretzels, cookies, and other treats). Of California's nearly 22,600 restaurant locations in the database, just less than 6.5% are designated as Snack destinations.
Ice cream and frozen yogurt restaurants are the menu types for more than 60% of the total, perhaps not surprising given the state's reputation for beaches, sunshine, and eternal summer. Doughnuts are the second leading snack destination, but not the national brands most of us are familiar with. Instead, Santa Ana-based Yum Yum Donut Shop and Winchell's Donut House dominate the local market, operating nearly 90% of the total doughnut shops. Krispy Kreme is a distant third with fewer than 30 locations.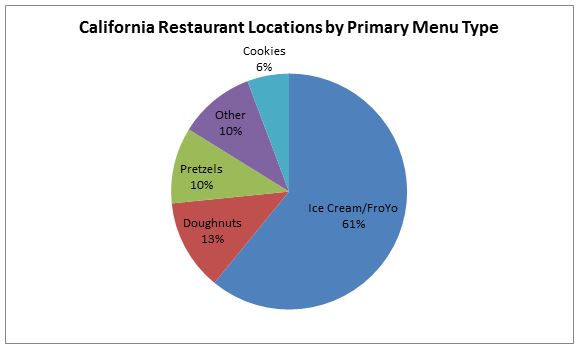 Source: Chain Store Guide Database of Chain Restaurant Locations
Will Dunkin's plans for California expansion work? Most of its growth will depend on finding qualified franchisees in the market, as the company is nearly 100% franchisee operated. Initial franchise fees are at least $50,000 and do not include training and marketing start-up fees, real estate development and construction, and equipment and supplies. The company's most recent Franchise Disclosure Document shows estimated initial investments ranging from nearly $300,000 to more than $1,500,000, not including real estate costs, for a freestanding location.  Franchisees will also pay weekly royalties and advertising fees, monthly fees for technology and network access and maintenance, and ongoing replenishment of food and supplies in addition to customary overhead expenses of salary, insurance, maintenance, and other expenditures. Current franchisee requirements include a minimum of $250,000 in liquid assets and $500,000 net worth per unit. If the California plans work out as Dunkin' Donuts executives hope, then perhaps the company will turn its eyes north and begin opening locations in Idaho, Oregon, Washington, and even Alaska.
For more information about Chain Store Guide and its many databases, please visit www.chainstoreguide.com or call your local sales representative at 800-927-9292 for a free demonstration of our interactive online products.