Papa Murphy's: Rising to the Occasion?
On March 11, 2014, Papa Murphy's Holdings Inc. filed a form S-1 with the Securities and Exchange Commission in preparation for an initial public offering. If the offering is completed, the company will trade on the NASDAQ Global Select Market under the ticker symbol "FRSH". Papa Murphy's International is the franchisor of the Papa Murphy's Take 'N' Bake Pizza chain. With system-wide sales of $786 million in fiscal year 2013, Papa Murphy's is the fifth largest pizza chain in the U.S. as measured by systemwide sales and total number of stores. It is also the largest take 'n' bake pizza chain in the U.S.
Given the extremely competitive nature of the foodservice marketplace, it's always interesting to read why a particular company believes it will succeed where so many others have failed. In its filing, Papa Murphy's cites plans to increase same-store sales through marketing, enhanced customer service to build brand loyalty, and training employees to upsell. Expanding in existing markets will improve brand awareness, while the company has identified 13 new markets to help increase store count. Executives believe there is room for growth in the U.S. from the current 1,400 stores to approximately 4,500.
One potentially enormous edge that Papa Murphy's has over its other restaurant competitors is its ability to accept Electronic Benefit Transfer (EBT) payments (formerly known as food stamps) because the pizzas are uncooked, a requirement for accepting EBT payments. This capability allows it to compete directly against grocery stores' frozen pizza. It also allows Papa Murphy's to tap into the billions of dollars of assistance provided by the government each year.
Papa Murphy's is investing in technology for its restaurants, rolling out a POS platform that allows users to monitor cash flow, inventory, and labor scheduling. At the end of 2013, nearly 60% of existing stores had implemented the system and were experiencing a 2% increase in comparable store sales growth. A new online ordering system is also being rolled out in select markets and is contributing to an increase in transactions and higher ticket sales.
The company has developed an enhanced new store format, creating a 'theatre' style of preparation, allowing customers to see the dough being freshly made on-site and the 'make line' where they can watch as their pizzas are made to their specifications. Ten company stores will be remodeled to the new format in 2014, and it is expected that franchisees will remodel based on the terms of their franchise agreements.
Unlike several of its larger competitors, Papa Murphy's does not provide any supplies or equipment to its franchisees:  Papa John's Pizza gets nearly half of its total revenue from distribution, and Domino's derives almost 60% of its total revenue from this. Sysco Corporation is the primary distributor of food and supplies to the domestic company and franchised locations.
Despite the many strengths of the Papa Murphy's brand, there are significant obstacles as well, not the least of which are its formidable competitors. The company touts itself as the fifth largest pizza chain in the U.S., but it has a long way to go to catch up with the top four. As the following graphs depict, Papa Murphy's operates just 4% of total locations and accounts for just 3% of systemwide sales.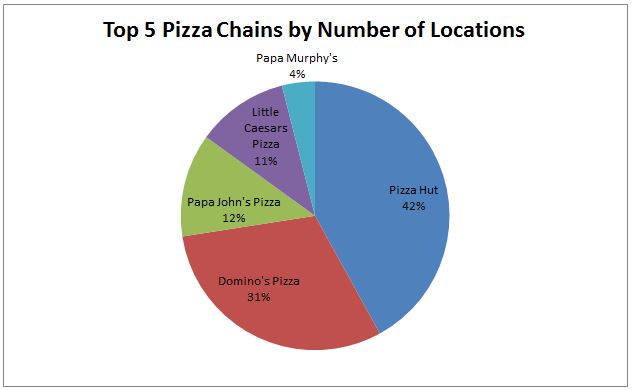 Source: Chain Store Guide Database of Chain Restaurant Operators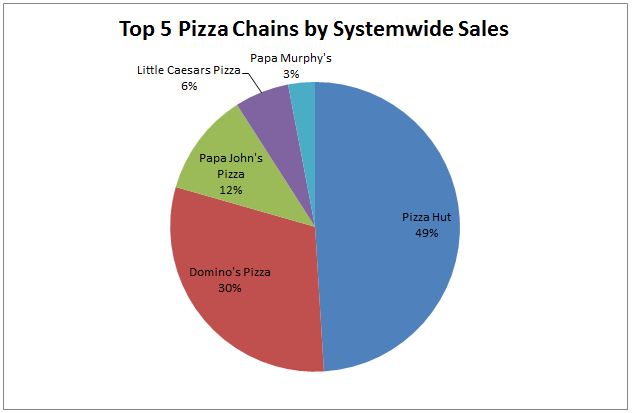 Source: Chain Store Guide Database of Chain Restaurant Operators
It's been a busy past 12 months or so in terms of going public action in the foodservice industry, with Potbelly Corporation and Noodles & Company both making the move last summer. Zoe's Kitchen Inc. filed an S-1 the day before Papa Murphy's. Movie theatre operator AMC Entertainment and hotel operator Hilton also went public recently; all of these companies are included in Chain Store Guide's database of Chain Restaurant Operators.
If you would like to keep up-to-date on activity in the restaurant industry, contact your local Chain Store Guide sales representative at 800-927-9292 to request a free demonstration of our interactive online database. It's refreshed daily so you're never more than a few days away from the latest news.