Company Snapshot: Trader Joe's
Trader Joe's Co.
Address:
800 S Shamrock
Monrovia, CA 91016-6346
Telephone:
626-599-3700
Website:
www.TraderJoes.com
Total Current Stores:
437
Year Founded:
1958
Total Revenue:
$11.75 billion (e)
Senior Executives:
Daniel Bane- CEO
Bryan Palbaum- CFO
Ten Year Sales History*
Sales in billions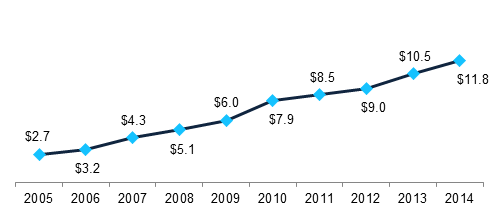 *Source: Chain Store Guide Supermarket, Grocery, & Convenience Store Chains Database
I'll admit, the first time I went to Trader Joe's was for some of their supposedly amazing $2 bottles of wine. As mentioned in this month's Recession Buster, I don't cook often, but while doing research on the company, the recipes they share make me want to become a Trader Joe's chef. With recipes like Miso Salmon & Pineapple Salad, Root Beer Waffles, Edamame Energy Bowl, and Peek-a-Joe Joe's Cookies, and amazing pictures to match each description, it's hard not to salivate when scrolling through the pages. What I was most surprised about, and will be the main reason I go back, was the amazing cheese selection and the low costs. If you are a cheese lover like me, you need to go to Trader Joe's. Not only do they have an assortment of cheeses, but they are also cheap. I left the store with 6 different types of cheese, 2 bottles of wine, and 4-5 other items, and the total cost was only $30. If all of this wasn't enough, the workers at the store I visited were extremely helpful and nice. While checking out, I noticed that all of the workers were having conversations with the customer they were ringing up and seemed genuinely nice.
While it is easy to make a list of all the great attributes of Trader Joe's, I will admit walking through the store was a bit confusing. If you are addicted to certain brands, or aren't willing to try different types of your favorite foods, this store probably isn't for you. Most of the products are from Trader Joe's private line. This doesn't seem like a big deal when reading this, or writing about it, but when you are walking through a store looking for normal products that are in most stores, don't expect to find them. I was a little overwhelmed because all of the products were new to me. You could honestly spend an hour just looking at all of the variations of food Trader Joe's has. Another downfall to the store was that while they do have a produce section, it doesn't have as large of a selection as other grocery stores.
In the end, I will definitely be visiting Trader Joe's again and would recommend that everyone should go at least once, even if it is just to look around. I would also recommend for everyone to look at the company's website and recipes, as I am still making a list of everything I want to cook. I was once told that to be successful you need to either be the best, the first, or different. Trader Joe's is not only the best, having one of the highest sales per square foot average, but it is also one of the first grocery stores to have a store full of private line products, also making it different. There is a reason the company has continued growing in sales and store count over the past 50 years, and you only have to visit a store to figure out why.