Industry Transformers: Women in Retail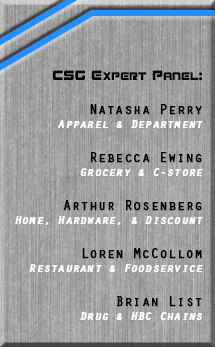 2015 will be a very exciting year for CSG's prestigious content writers and industry experts
This year, our editors have unanimously agreed on a select collection of topics. Industry Transformers will highlight companies & executives who have managed to stay relevant in this ever changing environment. They will outline how businesses and people must evolve, adapt, and transform in order to become top leaders in the marketplace.
Enjoy our first topic: Women in Retail
Apparel & Department Store Retailers
Sara Blakely is the founder of Spanx, Inc. For that, women around the country thank her. Sara was born in Clearwater, FL, and graduated from Florida State University. After college, she accepted a sales job with an office supply company. To get that control-top look she felt forced to wear pantyhose in the hot Floridian climate. At age 27, Blakely relocated to Atlanta, GA and spent the next two years and $5,000 of her savings researching and developing a better hosiery idea. The creation of the initial product prototype was completed over the course of a year and involved her mother and her friends personally testing the garments.
Before long, Ms. Blakely managed to arrange a meeting with a representative of the Neiman Marcus Group, at which she changed into the Spanx in the presence of the Neiman Marcus buyer to prove the benefits of her product. Spanx were sold in seven Neiman Marcus stores as a result of the meeting. Soon after, Bloomingdales, Saks, and Bergdorf Goodman were on board. Always in charge of her own marketing, Sara Blakely decided it was time to send a basket of products to Oprah Winfrey.
In November 2000, Oprah named Spanx a "favorite product", leading to a significant rise in popularity and sales. In 2001, Blakely signed a contract with QVC, and sold 8,000 pairs in the first six minutes. Spanx achieved $4 million in sales in its first year and $10 million in sales in its second year. The private company now tops $250 million in annual sales. As of 2014, Sara Blakely was listed as the 93rd most powerful woman in the world by Forbes magazine.
Discount, Dollar, & Hardware Retailers
Mindy Grossman is the Chief Executive Officer of HSN, Inc. and a most prominent member of the company's Board of Directors. She grew up in the business world in the menswear industry, with a strong accent on international commerce. Her travels provided her with a depth of knowledge in Asian and Latin American business practices.
Her time in Latin America offered her a background study of our nation's now fastest growing demographic. Her time in Japan provided her with an understanding of the practice of mobile and social communications at a time when they were already well entrenched there but just barely becoming a factor here. This proved to be the germ of her vision to transform HSN from essentially a television shopping forum to a multiplatform, consumer experience.
Ms. Grossman joined HSN in 2006 after a six year tenure at Nike, Inc., where she served as a Vice President of Global Apparel. At the time of her departure from Nike, her move was seen as somewhat controversial as Nike was seen to offer more opportunities. However, Ms. Grossman decided that she had a future at HSN as she saw many avenues through which she could evolve and grow the company through the diversification of brands (many HSN exclusives) the adoption of new forms of communication through rapidly changing media channels and branding through exclusive celebrity personalities. She hoped to move the focus of the retailer from its prominent television platform to a multiplatform operation, offering media-rich opportunities through the Internet, the increasing variety of mobile applications, as well as through TV.
Ms. Grossman has succeeded royally in her ambitions toward transforming the company. Currently HSN operates one of the top ten most trafficked e-commerce websites, alongside its 24/7 live broadcasting operations. One of Ms. Grossman's inspirations for seeking the position at HSN, was the impression Chef Wolfgang Puck made on her as she simply watched his show on the network. She marveled at how he didn't directly sell, but inspired viewers through his obvious joy in simply cooking in front of the cameras. Now HSN features a cadre of celebrity chefs and at times bundles several for a theme of shows on the same day.
In keeping with her design to turn the image of HSN to be young and exclusive, Ms. Grossman has attracted celebrities including Serena Williams, P. Diddy, international model Iman, Mary J Blige, Jessica Simpson, and now sells guitars through Keith Urban. Adding to the network's diverse production and sales integration, Keith Urban's guitars and lessons are now being offered through infomercials, produced through HSN.
A key to Ms. Grossman's success is that she is actually a fan of the network and received a customer appreciation status as one of the retailer's top customers, based on purchases. Clearly her enjoyment of Wolfgang Puck's program years ago continues through the network's offerings today. Currently HSN boasts annual sales of $3.4 billion with a base audience of five million customers. This is up from annuals of $2.1 billion when Ms. Grossman arrived on the scene in 2006.
Helena B. Foulkes, Executive Vice President and President of CVS/pharmacy, has been a leading innovator in the retail drug industry for over a decade. Foulkes held corporate finance positions at Goldman Sachs and Tiffany & Co. prior to joining CVS in 1992. Her 20+ year career at CVS includes positions with increasing responsibility in strategic planning, visual merchandising, category management, and marketing/operations services.
One of Foulkes' most notable and impressive accomplishments was the development of ExtraCare, CVS' loyalty card. The customer loyalty program has over 70 million members and is commonly referred to as the most widely recognized of its kind in the retail industry. Mrs. Foulkes also played a key role in developing the company's Internet strategy, leading to the successful launch of CVS.com in 1999. Additionally, she is credited with leading the innovative health care programs Maintenance Choice and Pharmacy Advisor. Foulkes has been a Director on the board at The Home Depot since 2013, while also serving on the Board of Governors at the Boys & Girls Clubs of America, Inc.
In her free time, Mrs. Foulkes has been known to run a marathon, while she has even been to Spain to 'run' with the bulls.
"Find your passion. Always have your own development plan. And love what you are doing today." This is M. Marnette Perry's advice to young professionals today and is something she has done her whole life. She began at the Kroger Co. as a part time cashier in 1972 while attending Ohio University and has since worked her way to becoming the Senior VP, Strategic Initiatives and Operations.
Her personal philosophy is "Good is the enemy of great," and during her 43 years at Kroger, she has continually strived to be great. She has held many leadership positions including: Director of Produce Merchandising and Procurement, Group Vice President of Perishables, President of several divisions (today she is in charge of eight), and Senior Vice President. She is also a member of the Board of Directors of Kroger Personal Finance and has also had an important role in developing several of Kroger's initiatives including the Natural Foods and Floral programs. Outside of Kroger, she is a member of the Board of Directors of Grange Insurance and Network of Executive Women.
While what she has done is inspiring, what she has learned is also influential. When interviewed by Woman of Influence in the Food Industry she states, "My defining moment isn't really a moment … it is actually a defining lesson. What I have learned is the power of knowing the right question." She has continually stressed the importance of putting the customer first, and the importance of people in every aspect of life. That is what she believes sets Kroger apart, and why she has stayed with the company. She believes that "people and organizations that thrive create cultures of giving to each other." These personal beliefs can clearly be seen in Kroger's company culture and it is easy to see why she has loved working for the company and her influence in it.
Fueling a Positive Cycle That Never Ends
What does Body Shop, Hooters, Cinnabon, and Women's Foodservice Forum all have in common?
The answer: Kat Cole.
Cinnabon President Katrina "Kat" Cole has been there and done it all. Raised by her single, independent mother along with her two younger sisters, Cole started in the workforce first at Body Shop and then as a hostess at Hooters. At the age of 19, Cole was asked to travel to Australia to help open the first Hooters in the country. Soon after, Cole was traveling the world opening the first Hooters locations in Mexico and South America. By 26, Cole was on the Board of Directors for the Georgia Restaurant Association, Executive VP at Hooters of America, Inc., and was part of the executive team that built the franchise to 400 units in almost 30 countries.
Unlike many of her executive counterparts, Cole never went to college for her bachelor's degree. Instead, she took the GMAT, sought out letters of recommendations from top CEO's in the business, and applied to Georgia State University's J. Mack Robinson College of Business. With an EMBA in hand, Cole became the new COO for Cinnabon, Inc. under the umbrella company FOCUS Brands in October 2010. Four short months later, Cole was promoted to President of Cinnabon, Inc.
This year, Cole was named chair of Women's Foodservice Forum and was promoted to President of Global Channels Group for FOCUS Brands all while continuing to elevate Cinnabon's awareness through social media and other platforms. According to National Restaurant News (NRN), the 1,200 unit in 55 countries franchise passed the $1 billion mark in annual branded product sales globally.
Keeping to her roots by focusing on the positive, whether it's about people or business, is how Cole not only continues to remain successful, but also how she encourages others to do so as well. Currently, NRN reported that Cole is in the process of establishing a foundation that funds sustainable approaches to education and self-sufficiency – a way of paying it forward. Cole stated, "We fund activities and individuals that fuel a positive cycle that never ends."
(As of 2/4/15, Cinnabon Inc. promoted Joe Guith to President succeeding Kat Cole who will focus on her new role overseeing multi-channel growth globally for Cinnabon, Auntie Anne's Pretzels, Carvel ice cream, McAlister's Deli, Moe's Southwest Grill, and Schlotzsky's.)