Sysco-US Foods Merger in Jeopardy
In December 2013, Sysco Corporation and US Foods Inc. agreed to merge creating the largest foodservice company in the nation. The transaction valued at $8.2 billion was set to conclude "in 3Q14 or some time in 4Q14" and then again with an expected completion date in October 2014. About seven months after the most recent expected completion date, the two foodservice conglomerates are nowhere near where they expected to be.
This week representatives from Sysco, US Foods, and the Federal Trade Commission (FTC) are meeting in court to discuss whether the merger should continue or be terminated. The biggest concern regarding the merger would be that it would be bad for competition since the closest competitor, Performance Food Group (PFG), is behind US Foods by nearly $9.3 billion in total restaurant industry sales (Chain Store Guide).
When the merger was first announced, Performance Food Group CEO George Holm was not on board, but after Sysco agreed to divest some of its assets, which would add 11 facilities to PFG, he reconsidered. It can be said that the entire merger is based on whether or not PFG is seen as a competitor in the foodservice distributor market. Unfortunately, the numbers are hard to ignore.
According to Chain Store Guide's database of Foodservice Distributors, PFG is in third place with approximately $13.69 billion in total restaurant industry sales with Sysco and US Foods at $46.5 billion and $23.02 billion, respectively. The following chart shows that Sysco and US Foods dominates the market share with 53% while PFG and McLane Company Inc. are both recorded at 10% and Gordon Food Service Inc. at 7%.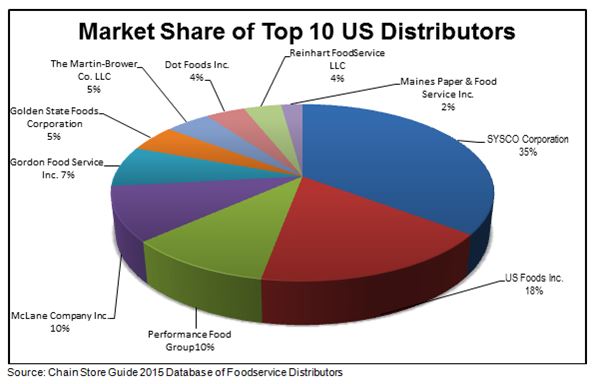 Sysco insists that there will be ample competition in the foodservice distributors market since restaurants, schools, and other customers buy a variety of ingredients and equipment from different types of suppliers. Nevertheless, during this week's court proceedings, US Foods Executive VP of Strategy, David Schreibman, said that the company will not continue with the planned merger if the judge preliminarily blocks the deal.
No longer is it months or weeks to determine the fate of the Sysco-US Foods merger, but rather  a decision will be made in a matter of days. Even if the merger doesn't occur, it will take a lot to knock Sysco off the #1 spot.