Industry Transformers: Company Culture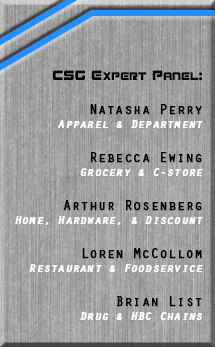 2015 will be a very exciting year for CSG's prestigious content writers and industry experts
This year, our editors have unanimously agreed on a select collection of topics. Industry Transformers will highlight companies & executives who have managed to stay relevant in this ever changing environment. They will outline how businesses and people must evolve, adapt, and transform in order to become top leaders in the marketplace.
Enjoy our sixth topic: Company Culture
Apparel & Department Store Retailers
When thinking about how a company's culture advances its business, Lululemon is the apparel retailer that comes to mind. The company's mission is to create components for people to live long, healthy and fun lives. This of course while also selling them the athletic apparel and accessories for these fun-filled lives. It's the employees that prove Lululemon is not just an apparel brand but a wellness brand. The company promotes health and a sense of community.
Lululemon Athletica Inc. is a yoga-inspired athletic apparel company founded in 1998 and headquartered in Vancouver, BC. The company currently operates over 300 stores and showrooms worldwide. Stores are much more than a place to make a purchase. It is common to see employees in handstands, monitoring yoga poses, and always wearing Lululemon apparel. Lululemon has strong relationships with its suppliers and vendors, even hosting an annual summit bringing them all together.
Setting the bar in technical fabrics and functional designs, Lululemon works with yogis and athletes in local communities for continuous research and product feedback. Lululemon's quality promise includes the features of its products and also the people working for it. The brand uses multiple technical fabrics to create high quality, long lasting products. However, supreme yoga pants are not the only thing that has customers coming back. The loyalty is built with employee relationships as well. Store employees are not only yoga instructors and product experts, they are ambassadors who teach classes and attend festivals and retreats. An interview to work for Lululemon may include a group yoga or cross fit class. The top company has been able to maintain higher price points because of its high quality products and brand loyalty.
Discount, Dollar, & Hardware Retailers
During its annual stockholders meeting of 2006, The Home Depot experienced an investor's revolt. Later that year then- CEO, Robert Nardelli was essentially forced out, if receiving a golden parachute of over $120 million, can really considered as being forced out.
Francis S. (Frank) Blake was chosen as the new corporate leader. He was installed as Chairman and CEO and was given the corporate reins. And reign he did.
He immediately announced a return to the corporate roots established by the Depot's founders. Blake quickly sold off the several regional pro dealers which his predecessor had acquired. For his urgency, he accepted a significant financial loss. However, this allowed the company to focus on its established core of do-it-yourself customers, rather than being spread thin by the pro dealer demands of the companies he sold off.
Mr. Blake also pledged to return the company to its policy of hiring and promoting industry professionals to work with customers. His predecessor had opted to cut down on professionals in order to reduce expenses.
Here Mr. Blake wisely took advantage of a ravaged recessionary economy. Realizing that the national housing catastrophe was leading to extremely high unemployment among industry professionals as new home building all but stopped cold, Mr. Blake immediately set a hiring program in place which was designed to attract carpenters, plumbers and electricians among others. His regime went 'back' to offering employees a system of training and testing, with promotions based on the merits displayed on this testing, as well as on the job performance.
Telephone based customer service was largely brought back home. The previously deposed administration had moved most phone-based customer service offshore, again to foster the bottom line and appeal to Wall Street. Unfortunately, this approach quickly became the bane of customers, many of whom turned their shopping habits to the welcoming competition.
Essentially Mr. Blake deliberately established a culture intended to attract, promote and maintain a professional staff, which was designed to assure customers that they were in most capable hands when it came to understanding and executing their complex home and outdoor projects. This culture was designed to reassure both associates and customers of the value corporate now placed on the hiring and rightful promotion of a professionally qualified staff. This culture succeeded in bringing Home Depot customers back and returning the company to its former status as trusted industry leader.
These moves were among the most 'radical' the Blake administration used to rapidly turn their company around, even as the recession kicked in. Checking Mr. Blake's twitter history, one must be struck by his focus on celebrating achievements and events shared by Home Depot associates, ranging from groups of personnel manning the sales floor to those celebrating long-term anniversaries.
CVS Health, where Health is Everything. The new company tagline runs across its website address and appears at the top of a Google search for CVS. There hasn't been a more committed drugstore company (or any retailer) than the former in promoting a culture of well-being for its customers. By now, everyone is likely aware of its decision to pull tobacco from its stores, a move that cost the company $2 billion in lost annual revenue. The idea was that a 'healthcare' company shouldn't be actively engaging in the sale of harmful tobacco products, products that are proven to cause many illnesses. The plan is working, as pharmacy revenue and quarterly profit numbers are up. Recently, CVS announced the company is leaving the U.S. Chamber of Commerce because of the trade group's alleged efforts to lobby against anti-smoking laws. To say CVS is 'all-in' on health would be an understatement.
After the tobacco decision and formally changing its name to CVS Health, the company has mapped out a culture of making its customers healthier while also becoming a more responsible business towards the environment. Was this culture change all smart marketing and a way to make headlines? Of course it was, and it worked well. However, it's hard to argue that CVS' initiatives are all a front for good publicity. The company is an industry leader in the retail clinic movement, and actively helps limit prescription drug abuse through various pharmacy programs. Simultaneously, CVS has helped to reach more patients under the Affordable Care Act. In addition, its private label products and supply chain operations have been improved to increase sustainability and transparency. When it comes to 'putting the money where the mouth is', it appears CVS is delivering on its 'healthy' company culture charge.
"Not an exaggeration to say that this grocery chain is the single most compelling reason to live somewhere in the Mid-Atlantic U.S. This is not an ad, it's just how I FEEL."
– Rachel Sanders BuzzFeed
Ranked 7th on Fortunes Top 100 Best Companies to Work For in 2015, Wegmans is the only supermarket to make the top ten and only one of four to make the list at all. (The others were Nugget Market at 26, Whole Foods at 55, and Publix at 81.) The company has been on the list for 18 years, and was ranked 12th last year. When looking at the logistics of the company, it does seem like a great place to work. Company benefits and perks offered to its employees shed light on its high employee satisfaction rankings. It offers compressed work weeks, discounted gym memberships, offers college tuition reimbursement to employees, gives employees 6 paid holidays, 5 vacation days, and 3 PTOs. It also has extremely competitive pay. Fortune reports that the average annual base pay for hourly employees is around $33k. All of this contributes to the low turnover rate of 5%.
While on paper Wegmans looks like a great company to work for, many companies offer the same or similar benefits. So what makes this company's culture stand out more than Whole Foods, Trader Joes, Publix, or Kroger? It has an almost cult like following. If you want to know "25 Reasons Wegmans Is The Greatest Supermarket The World Will Ever Know" or "21 Reasons You Should Join The Wegmans Cult" just visit one of millennial's favorite websites: BuzzFeed. Because I have never been to this grocery paradise, like a typical millennial, I wanted to know what my peers thought. I checked out Yelp, Twitter, Google, and asked a co-worker. All had raving reviews. When I asked my co-worker why Wegmans is special and if it is similar to Whole Foods, he looked at me like I was crazy. He said Whole Foods is nothing compared to Wegmans. More than the grocery selection, the eating area of the supermarket is very high end and all made to order. On top of that, the employees wear actual chief's outfits and take pride in their craft. Almost every Yelp review was 4 or 5 stars with many comments on how it is the best supermarket in the US. On Twitter many users talk about why it is the best chain, their obsession, and other people getting annoyed with how much they talk about the store. Who else seems to love Wegmans other than millennials and the staff? Alec Baldwin (and his mom), Chris Christie, and Cher. Baldwin joked about the company on David Letterman's show, and the comments under the YouTube clip provide yet another example of people's love of the company.
It is kind of crazy to think that a company ranked number 21 in Chain Store Guide's 2015 Index of Leading Companies ranked by sales and number 58 ranked by units, is consistently ranked the top supermarket in the US. Jo Natale, VP of Media Relations simply sums up the reason, "It's going to sound cliché, but our employees are our secret sauce."
Foodservice Culture Shock: A Chipotle Story
In 1993, Steve Ells founded the restaurant concept that continues to shock the restaurant industry 22 years later – credited as "The Chipotle Effect." The champion fast casual good-for-you concept, Chipotle Mexican Grill serves the very best, fresh ingredients cultivated from local farmers, ranchers, and other suppliers who participate in and live out all things sustainable. By changing the face of fast food, Chipotle is committed to preparing each burrito or bowl with the full intent of creating a better world. And if anyone wanted to test that theory, Chipotle is quick to prove their loyalty.
Earlier this year, Chipotle demonstrated its zero-tolerance policy when the company stopped serving pork at about a third of its restaurants after finding that one of its suppliers had failed to meet its animal welfare standards. Chipotle spokesperson Chris Arnold stated, "This is fundamentally an animal welfare decision, and is rooted in our unwillingness to compromise our standards where animal welfare is concerned." By aggressively dealing with the situation, Chipotle not only saved the credibility of the brand, but also its deeply-rooted culture that consumers know so well.
Backing up its stance on providing healthier meal options for its fan base, Chipotle was the first national restaurant chain to voluntarily disclose the presence of GMOs (genetically modified organisms) in its food in 2013, and by spring of 2015, the company succeeded its switch to serving only non-GMO ingredients. There's even an entire page on the company's website dedicated to explaining each and every ingredient served in any of Chipotle's almost 1,900 locations.
Currently, Chipotle is working on creating a tortilla without complicated ingredients by going back to the basics and only using flour, oil, water, salt, and natural yeast (for flour tortillas). The new, better tortilla will roll out to Chipotle locations stretching across the US soon. Additionally, Chipotle's Cultivate Foundation, a "non-profit organization that funds initiatives supporting sustainable agriculture, family farming, and food education," has contributed over $3 million to causes the company wholeheartedly believes in.