Industry Transformers: Under 40 Executives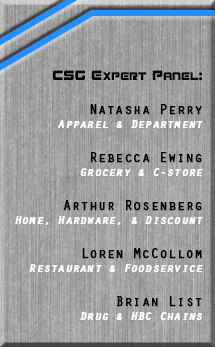 2015 will be a very exciting year for CSG's prestigious content writers and industry experts
This year, our editors have unanimously agreed on a select collection of topics. Industry Transformers will highlight companies & executives who have managed to stay relevant in this ever changing environment. They will outline how businesses and people must evolve, adapt, and transform in order to become top leaders in the marketplace.
Enjoy our seventh topic: Under 40 Executives
Apparel & Department Store Retailers
After ending up in the principal's office for charging first-grade classmates $1 a day to rent his Nintendo game, Charlie Chanaratsopon's elementary school principal might say he was destined to be an entrepreneur. He was right.
In 2004, Charlie Chanaratsopon founded accessory retailer Charming Charlie in Houston, Texas. He is currently the company's CEO. Charlie Chanaratsopon is 36 years old and, according to Forbes magazine, was one of the 400 richest Americans in 2014 with an estimated net worth of $500 million. Mr. Chanaratsopon, who has a background in finance and real estate, got the idea for the accessory retail chain after "walking the malls" to get ideas about what shoppers wanted. Using excess inventory from his family's jewelry manufacturing business, he started Charming Charlie.
The concept nearly failed after the first month from lack of traffic. On a whim, Chanaratsopon decided not to pull the plug. Soon enough women started lining up outside the doors before Charming Charlie opened each morning. It became the 'in' place for suburban moms' day out. Charming Charlie was unique to the market, especially amid a sea of struggling apparel-based retailers. Mr. Chanaratsopon developed the concept and tested different product mixes, visual merchandising schemes, and fixtures.
It didn't take long to see that Charlie Chanaratsopon was on to something. Charming Charlie began its expansion across Texas in 2006 and by the end of 2010 had 120 stores. As the recession continued and the real estate market took a hit, Charming Charlie was able to ramp up expansion since prime retail spots were easier to find and cheaper to secure.
Charlie Chanaratsopon found it key to listen to the customer through surveys and by analyzing sales trends. Based on customer feedback, each store groups its merchandise by color rather than by category. This concept continues to be a main competitive advantage for the company. Another differentiator is the amount of traffic in the stores, each bringing in an average of 4,000 women per week. Customers keep coming back because Charming Charlie stores offer a combination of an upscale fashion accessory boutique experience, value-oriented price points ($5-$50), and a broad selection of merchandise including jewelry, sunglasses, scarves, handbags, wallets, apparel, and shoes.
Currently there are 339 Charming Charlie locations in North America. The retailer has plans for a major expansion, including 55 new locations a year in the United States alone. Mr. Chanaratsopon plans to eventually reach 1,000 stores in the United States. Last month Charming Charlie announced the opening of two boutiques in Dubai. The new Middle East locations mark the accessory retailer's first venture outside of North America.
Discount, Dollar, & Hardware Retailers
At the relatively tender age of 32, Jason Plummer has already operated in several impressive, competitive arenas, if not always achieving his ultimate goals. Of course, as the very busy VP of Real Estate and Business Development for the notably profitable R.P. Lumber, and barely over 30, he has plenty of time to fulfill his challenging ambitions.
As VP of Real Estate and Business Development, Plummer has recently overseen his company's considerable post-recessionary expansion. After opening just two long-planned locations during the first two years of the industry crippling recession, the company stood pat on expansion until early 2013. The company then acquired five locations from regional Herrman Lumber in Missouri. During the two plus years since, RP has added six locations to bring their total location count to 57.
In addition to the healthy number of recent additions to the corporate location total, the quality of these locations from a real estate perspective is noteworthy. RP founder Robert L. Plummer has amassed a tidy real estate empire, comprised of well positioned parcels of both residential and commercial properties. Thus expansion takes on an optimal focus in terms of cost and positioning. New locations can be placed so as to efficiently serve builders while appearing at areas which are well trafficked. Continued aggressive growth seems inevitable.
In addition to strategically growing RP Lumber, Jason Plummer has aggressively sought to win prominent elective office in Illinois, though he has twice failed. In 2010, after defeating five other candidates in the state's primary for Lieutenant Governor, Plummer lost in the general election. Two years later he received 55.7% of the vote in a three-way primary but placed second in a three way election race for a seat in the U.S. House of Representatives. With a background as an Intelligence Officer in the U.S. Navy Reserves, Plummer's future, whether in development of corporate growth or in public service, would seem to be a bright one.
Earlier this year he was voted one of retailing's top ten real estate executives under the age of 40, in a nationwide poll conducted by Chain Store Age. Of course Jason Plummer is much closer to 30 than to 40.
A Harvard Business School student formulated an idea with a partner, determined a consumer need and developed a multi-million dollar idea. Stop if you've heard this story before; however this e-commerce startup differs greatly to the social media giant being alluded to. Katia Beauchamp met Hayley Barna at Harvard and founded Birchbox in 2010, popularizing the 'subscription box' trend. For a $10 monthly subscription fee, the company sends its members handpicked beauty product samples, most from high-end brands, in a neatly wrapped bow-tied box. After testing the products, consumers can purchase the full size version from Birchbox, creating a fun testing experience where customers are constantly excited to receive their new box at the doorstep. According to Ms. Barna, the company's trademark "try, learn, buy" approach to retail invites new brands into customers' lives and helps guide them through the discovery process. Birchbox now has hundreds of thousands of subscribers.
Ms. Beauchamp had a passion for beauty products at a young age, viewing high-end cosmetics as an 'accessible luxury.' Working at GAP, much of her disposable income went towards beauty products. After Harvard, Beauchamp took an internship with Estee Lauder, which she says was key to forming partnerships with brands to help growth the scale of Birchbox in its infancy. Beauchamp began her professional career in finance and banking, but quickly found that the growing enterprise was a full-time job. According to Beauchamp, working in structured finance and commercial real estate for three years helped her gain deal-making skills and educated her how to handle finances. Beauchamp credits her mother for raising and instilling emotional values and entrepreneurship.
Combined with its unique sample and 'test' approach, Birchbox has exploded in revenue while also acquiring funding. Recently, the company expanded to men's products. The unique business model, growing subscription base, and passionate ownership of Beauchamp and Barna have Birchbox set up for long-term success.
You've most likely heard the names John Legend, Toby McGuire, Demi Moore, Deepak Chopra, Jillian Michaels, and Tony Robbins, but you probably haven't heard the name Gunnar Lovelace. What do they all have in common? The five celebrities are just a few of the people that contributed to the more than $30 million that was raised for Gunnar Lovelace's online healthy grocery store, Thrive Market. At just 37, Gunnar Lovelace has co-founded several companies and is dedicated to having a positive impact on the world.
Lovelace was raised by a single mother in California. He witnessed the lengths she took to provide for them both and experienced the struggle she went through to afford organic foods. It was this experience, and his mother's remarriage to a man that ran a wholesale buying group from an organic farm, that has fueled his passion. He graduated from the University of California, Santa Cruz in 1999 and went on to pursue Entrepreneurship. He has been the Co-Founder of several companies including Ego X Studios, Cognition, Love Heals, and now Thrive Market. According to his LinkedIn, his interests include "identifying the path of least resistance" and he is fluent in English, Spanish, Geek, and New Age.
Lovelace clearly has a sense of humor, but is also very dedicated to giving back. In 2005, he Co-Founded Love Heals with his mother. Love Heals is an online jewelry company that has truly unique and special pieces. The pieces reflect a bohemian spirit and natural reflection of the environment. For each piece sold, the company plants 10 trees and to date it has planted over 1.3 million. According to the company's website, "Love Heals is a socially conscious family business based in Ojai, California that embodies a commitment to spirit, nature and service."
His most recent business venture is Thrive Market. This is an online store that sells natural and organic products at wholesale price. Described as a mix between Costco and Whole Foods, customers pay $60 dollars a year and can shop the site as much as they like. With 2,500 products, and more being added every day, customers have tons of organic options. With each membership bought, a free membership is also given to a low-income family. As Lovelace puts it, "I am inspired to make healthy living affordable for everyone. This is important to us all as individuals and is also great for our economy and the earth!"
Lovelace is the CEO, but co-founded the company with Nick Green, Kate Mulling, and Sasha Siddhartha. Most, if not all, of the co-founders probably could have been used in this Transformer's piece, as they are all young entrepreneurs that want to change the industry. Just last week, in its second round of funding, the company raised an amazing $30 million which will most likely be used to open a new distribution center in Batesville, IN. Not only is Lovelace a Transformer, but if this company's success keeps going at this pace, it will be as well.
Have It Schwartz's Way
It is not unusual for Burger King employees to assemble a Whopper in a matter of seconds or maintain daily duties such as cleaning windows, wiping tables, or scrubbing toilets, but for one man in particular, it was out of his norm. As a rookie CEO for Burger King Worldwide in 2013, Daniel S. Schwartz set out to learn every detail about his company and the industry from store-level on up. Once he mastered the Whopper in less than 35 seconds, Schwartz knew he undoubtedly had bigger burgers to grill.
After graduating from Cornell University, Schwartz spent a decade on the Wall Street circuit. With no prior quick service knowledge, he decided to take an analyst position at private equity firm 3G Capital in 2005, and in three years he was named partner. In October 2010, Schwartz helped facilitate 3G's $4 billion acquisition of Burger King, amidst questionable remarks since at the time the fast food chain was a mess, and became CFO three short months later. By June 2013, at the ripe age of 32, Schwartz was named Burger King's 21st CEO. Fast forward one year later, Schwartz was appointed to his current position as CEO of Restaurant Brands International Inc. which encompasses both Burger King and Tim Hortons brands.
Due to his "prodigious" climb to the top at such a young age, Schwartz has received mixed reviews about heading the third largest restaurant operator in the world behind McDonald's Corp. and Yum! Brands Inc. With over 19,000 locations, Schwartz understands that the two brands are completely different and must be treated as such. "For the Tim's side, it's all about reinforcing our strong position in coffee and expanding the lunch day part," Schwartz stated in an earnings call late April 2015, "On the Burger King side, the strategy hasn't changed over the past four, five years."
Making the List
#7 on National Restaurant News Power List (2015)
#6 Food Drink & Franchise List of Top 10 CEOs of the Fast Food Franchise World (2014)
#5 on Forbes' America's Most Powerful CEOs 40 and under (2014)
According to Bloomberg Business, 3G's Co-Founder Jorge Paulo Lemann has a history of enlisting young executives, and Schwartz has no problem doing so, too, by "elevating people closer to his age to top positions." After Schwartz took over, the Burger King executive team's average age dipped from 41 to 39. In fact, Restaurant Brands International's CFO, Joshua Kobza, is 29; Executive VP of Finance, Sami Siddiqui, is 30; and Burger King's President of North America, Alex Macedo, is 37. The article continues to state that the average age of a S&P 500 CEO is 53.
In addition to surrounding himself with his young, intelligent, and enthusiastic peers, Schwartz has also had support from famous activist Bill Ackman and even Warren Buffet who invested in the Tim Hortons acquisition.