Industry Transformers: International Invasion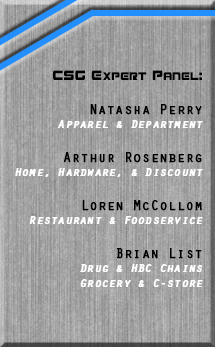 2015 will be a very exciting year for CSG's prestigious content writers and industry experts
This year, our editors have unanimously agreed on a select collection of topics. Industry Transformers will highlight companies & executives who have managed to stay relevant in this ever changing environment. They will outline how businesses and people must evolve, adapt, and transform in order to become top leaders in the marketplace.
Enjoy our ninth topic: International Invasion
Apparel & Department Store Retailers
In the apparel industry, there are numerous international retailers that open shop in the United States. Ireland-based Primark is one that customers have been wishing and waiting for. The long anticipated debut of Primark's first U.S. store occurred last month in Downtown Crossing in Boston, MA. Along with the four-level, 77,000 sq. ft. store, Primark opened a distribution center in Bethlehem, PA, last month. The next store will open at King of Prussia Mall, in Pennsylvania, on Nov. 25.
Primark plans to open a total of eight U.S. stores by the end of 2016. The retailer has already cut deals to lease space from Sears. Primark will open at the Burlington Mall and South Shore Plaza Mall, both in Massachusetts, the Danbury Fair mall in Connecticut, the Freehold Raceway Mall in New Jersey, and the Willow Grove Park Mall in Pennsylvania.
Founded in 1969 in Dublin, Primark has 292 stores encompassing 11 million sq. ft. of selling space in the United Kingdom, Ireland, Spain, Portugal, Germany, the Netherlands, Belgium, Austria, and France. The company employs more than 62,000 people around the world. Primark is known for its on-trend fashions for the whole family and extremely low prices. Primark does not sell online and says that selling online would not be cost effective given how low its prices are already.
Discount, Dollar, & Hardware Retailers
Home Depot vs. Lowe's Crossing Borders
When it comes to entering into foreign territories, the perennial numbers one and two dominant players in our domestic home center/hardware market have displayed very different though consistent expansion models. Upon first entering respective markets both north and south of our international borders, Lowe's initially commenced operations by exporting many of its USA-based executives to respective foreign markets, to build its own stores, essentially from the ground up.
Home Depot on the other hand, while relying on its USA-based executive corps to plan its entries across borders, quickly acquired major chains based in its new foreign territories to rapidly expand foreign retail operations, while adding executives from these acquisitions who were native to these foreign terrains. Home Depot has been careful to keep in place retailing nuances which it felt distinguished the retailers it had acquired. At the same time the company was announcing its respect for the true cultural differences of the customs and customers of the new territories in which it was hoping to succeed.
Lowe's on the other hand, consistently chose to enter respective foreign markets with long-term Lowe's executives directly managing their new enterprises abroad. In 2009, Lowe's initiated retail operations in Mexico under the direction of Francisco Fernandez who was installed as Director General of Lowe's-Mexico. Fernandez had been an executive with Lowe's since 2002.
The actual planning for the commencement of Lowe's Mexican operations began in 2007. Lowe's took two years to carefully establish its real estate policies for its Mexican venture, while carefully planning the merchandising of stores for its distinctly new clientele. The company broke ground for its first two stores in Mexico in 2009. The stores opened in early 2010.
Of these two competitors, Home Depot entered Mexico first, in 2001. Initial entrance into this market was cautious. The company was tentative as it sought first hand answers as to the true viability of this market. Home Depot also had to study many of its traditional concepts and tweak them for the Mexican culture. At this time Mexicans were just getting used to self-service and enjoyed smaller footprint specialty stores for their building and remodeling needs.
In 2004, Home Depot announced its confidence in a strong future south of the border, by acquiring Home Mart, the second largest Mexican home improvement retailer. At the time Home Mart was operating 20 locations. This brought Home Depot's total of locations in Mexico to 39.
Currently, Home Depot operates over 60 locations in Mexico. Lowe's operations in Mexico now include ten locations. It seems the acquisition of Home Mart, proved to be just the jumpstart Home Depot needed to assume a position which Lowe's seems unlikely to approach anytime soon.
General Nutrition Centers (GNC) has maintained an immense international presence for decades. The company operates over 9,000 locations worldwide. Over 2,000 of its international locations are franchised and span across 50 countries. GNC generated 38% of its total revenue from its international franchises in fiscal 2014, making it a leading U.S. based global retailer. The company has experienced solid growth over the past five years from an increased emphasis on health and fitness both domestically and internationally. Specifically, GNC has pointed to its international business as its 'key driver' of recent growth and expects to continue this focus in both existing and new markets. Even though international stores offer a more limited product selection than domestic store due to regulatory constraints, this business segment for GNC will continue to be a key function of growth. International presence has grown 64% since 2009 to reach 2,150 locations as of December 31, 2014.
Few international food chains have had success in America like the Aldi Group. The Germany-based company has two distinct supermarket chains that operate in the U.S. – the deep discount supermarket Aldi and the upper end Trader Joe's. Founded in 1946 by brothers Theo and Karl Albrecht, Aldi currently operates over 10,000 stores in 18 countries. Aldi stores in the U.S. are true discounters that carry mostly private label products. Stores are smaller – usually less than 15,000 square feet – and lack the typical amenities of a traditional American supermarket like service delis, fresh seafood, or prepared food. Customers even have to pay for the use of their shopping carts while in the store.
Trader Joe's locations also are smaller in size, but carry a more diverse selection of food. Stores focus on natural and organic food offerings, while still keeping its value proposition in comparison to other higher-end American grocery stores. Trader Joe's is believed to have one of the highest sales-per-square-foot revenue figure in the industry.
Setting Fire to Our Hearts & Our Taste Buds
Many years ago, Portuguese voyagers traveled vast lands and sailed numerous seas to gather and experience the spices of the world. Ending up in Africa, they encountered a spice like no other – the African Bird's Eye Chili. This specific chili, also known as PERi-PERi meaning "pepper-pepper," was used in a sauce that enticed the taste buds all while adding an eruption of delightful heat both in the bellies and hearts of its consumers.
It was the year 1987 in Rosettenville, a suburb of Johannesburg, South Africa, when Fernando Duarte introduced and shared his passion of Nando's PERi-PERi marinated chicken with his friends and then the entire world.
According to a company spokesperson, there are nearly 1,200 fast casual restaurants worldwide including locations in Australia, Bahrain, Bangladesh, Botswana, Canada, Fiji, India, Ireland, Malaysia, Mauritius, Namibia, New Zealand, Oman, Pakistan, Qatar, Singapore, South Africa, Swaziland, United Arab Emirates, United Kingdom, United States, Zambia, and Zimbabwe. Making its U.S. debut in 2008, there are currently 24 locations scattered across Washington DC, IL, MD, and VA.
Keeping with the Afro-Portuguese heritage, each Nando's restaurant is unique to its surrounding location and designed with contemporary South African artworks, rich colors and textures, and also equipped with a warm and inviting atmosphere. Nando's strives to provide a "minha casa é sua casa" or an "our home is your home" type of restaurant where family and friends gather over delicious food.
Just like the explorers from many centuries ago, Nando's is "continually looking at other potential U.S. markets for growth opportunities" near you to introduce PERi-PERi like you've never tasted it before. If you're curious to discover more, follow the company on Twitter @NandosUSA or Facebook.