CSG Snapshot: Kohl's Corporation

N56 W17000 Ridgewood Drive
Menomonee Falls, WI 53051-7096
(262) 703-7000
www.kohls.com
Total Stores
1,166
Total Sales
$19,204,000,000
Year Founded
1962
Trading Areas
AK, AL, AR, AZ, CA, CO, CT, DE, FL, GA, IA, ID, IL, IN, KS, KY, LA, MA, MD, ME,
MI, MN, MO, MS, MT, NC, ND, NE, NH, NJ, NM, NV, NY, OH, OK, OR, PA, RI,
SC, SD, TN, TX, UT, VA, VT, WA, WI, WV, WY
Senior Executives
Chairman, CEO and President: Kevin Mansell
COO: Sona Chawla
Chief Merchandising & Customer Officer: Michelle Gass
CFO: Wesley McDonald
Chief Administrative Officer: Richard Schepp
SNAP

FORWARD
Strong holiday sales for Kohl's and five straight quarters of positive sales increases since launching their three-year Greatness Agenda turnaround plan were the highpoints in a decidedly mixed bag of FY15 results (FYE 1/20/16). Store plans for 2016 include opening the second and third Off/Aisle discount-store locations, opening 12 Fila outlet stores in a bid to test the outlet waters, and the closure of 18 Kohl's units, the first time in its 52-year history that Kohl's will be closing multiple locations in one go. Locations will be announced in March. As the chart shows, Kohl's is in need of significant sales growth in the next two years to reach the Greatness Agenda sales goal of $21 billion in 2017 they set for themselves in 2014.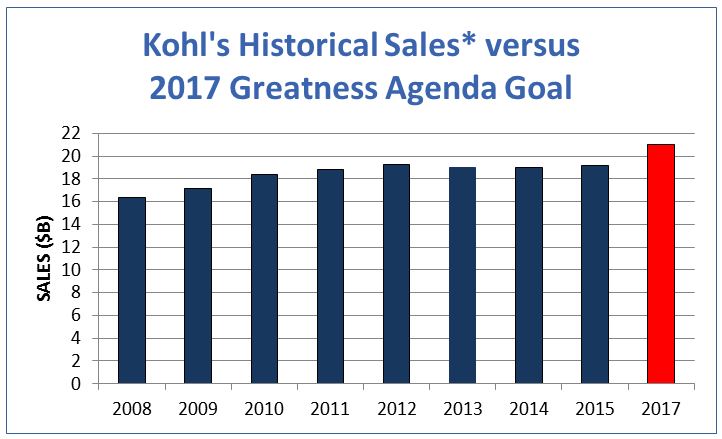 *Source: Chain Store Guide Department Store Leads Database
Estimated growth is based on a proprietary trend analysis. Actual figures are subject to change.This data is not intended for investment decisions.