Spending Monitor and Index Trends: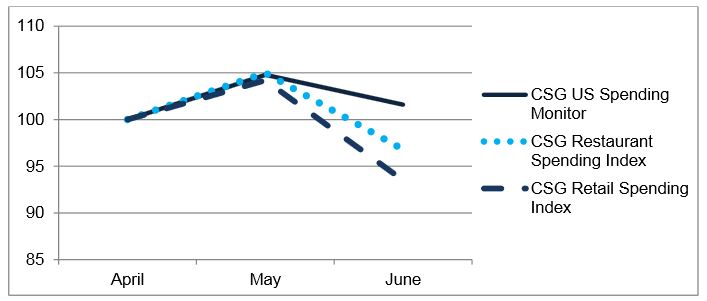 August 2014

The CSG U.S. Spending Monitordecreased 1.6 points between June and July. A combined 73.3% of Americans say they would rate the economy as being poor or fair, and 43.7% say it is getting worse. While these numbers are slightly better than last months, people's views on their personal finances are not.

The CSG Restaurant Spending Index increased 1.7 points between June and July. Contributing to this increase is a slightly higher percentage of adults (31.2%) reporting going out to eat once a week.

The CSG Retail Spending Index increased 4.0 points between June and July. It is no surprise the retail index increased this month as families are beginning their back-to-school shopping. Adults with children reported that they will spend 21.4% more on clothing, footwear, or accessories in the next month; this is contrasted by only 11.6% saying the same last month.

CSG: Consumer Spending Report
August 2014

The CSG US Spending Monitor, Retail Spending Index, and Restaurant Spending Index are monthly indexes of consumer spending intentions and capacity based on interviews with a random sample of 1,500 U.S. adults. In addition to spending, the survey asks consumers their opinions on the U.S. economy and their personal finances, retail and other discretionary spending.

The Monitor began in January 2014 with a base index of 100. CSG captures a unique view of consumer, retail, and foodservice spending intentions. The CSR includes the CSG US Spending Monitor, which tracks economic confidence and spending intentions of US consumers, the CSG Restaurant Spending Index, which measures consumer spending intentions for restaurant purchases, and the CSG Retail Spending Index that measures consumer retail and discretionary spending confidence.

The CSR will be available to all customers this summer delivered on a monthly basis. If you would like to receive the CSR report in your email, fill out the form to the left.